[Wellbeing & You] Pumpkin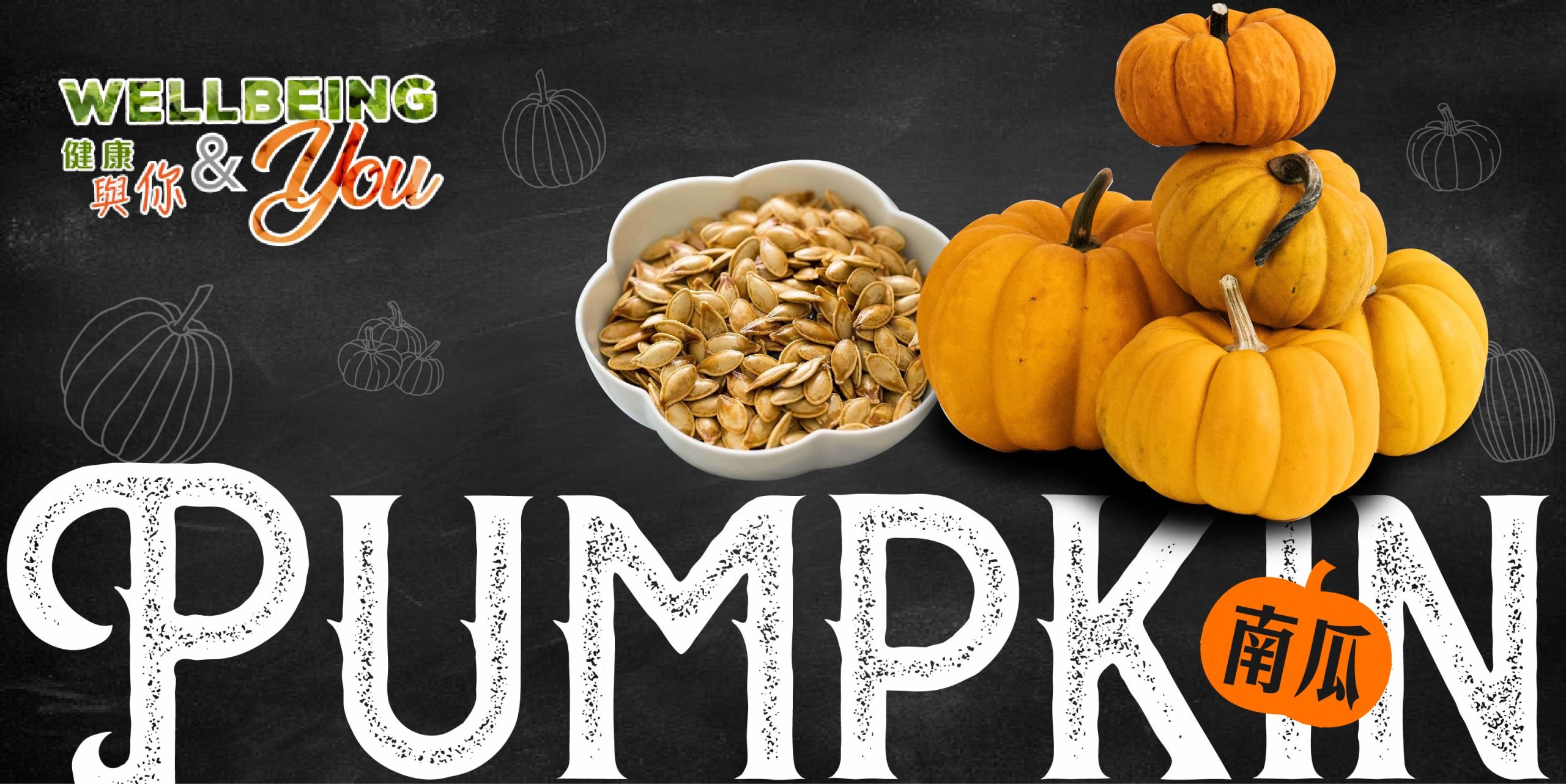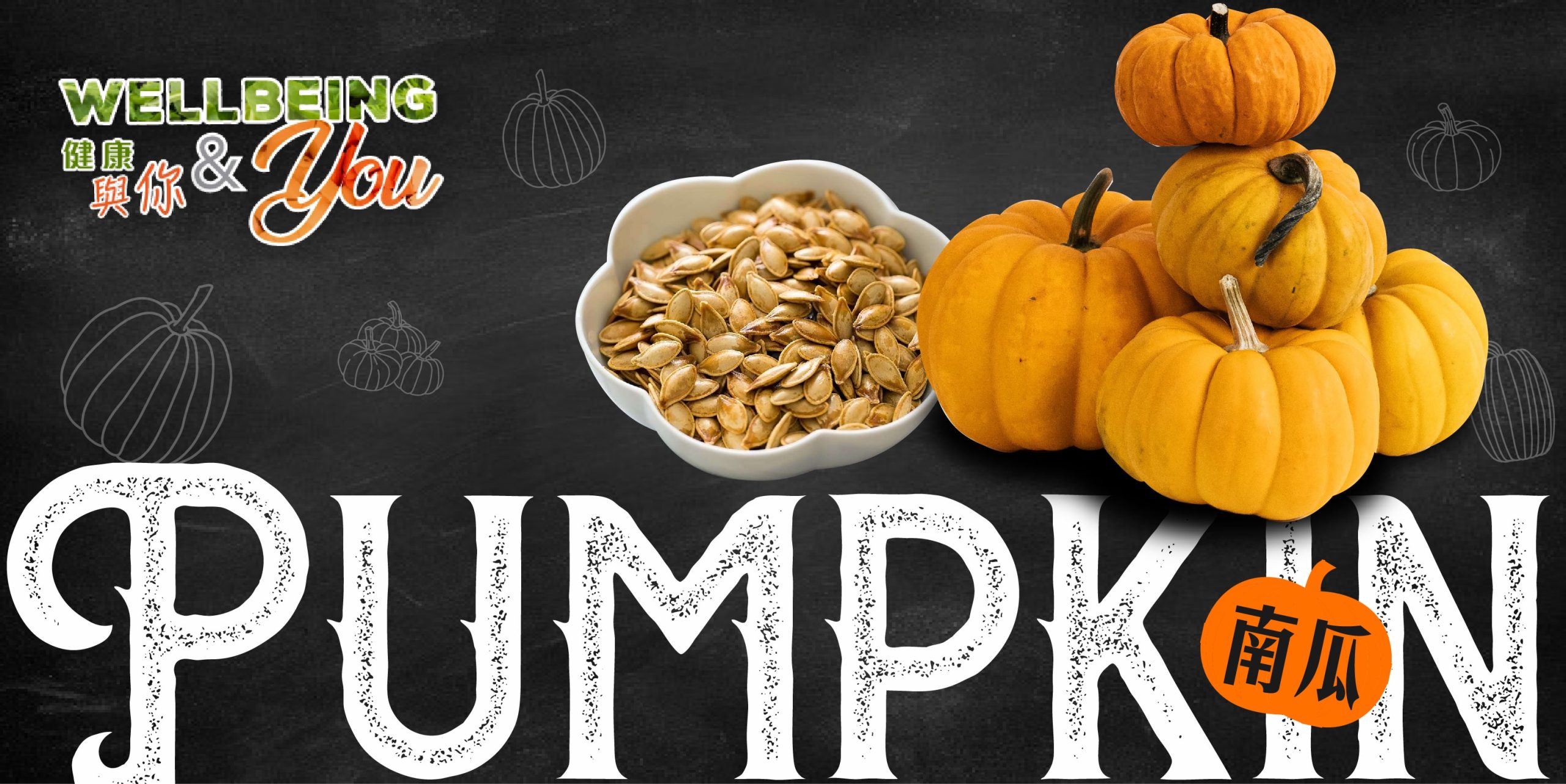 Eat Seasonal
Pumpkin is usually harvested in September and October, which make them the perfect choices of many dishes in festival celebrations later in the year. When pumpkins are stored between 10-15⁰C in a well-ventilated position, they can last up to six months, so their supply continues to be abundant in later months of each year.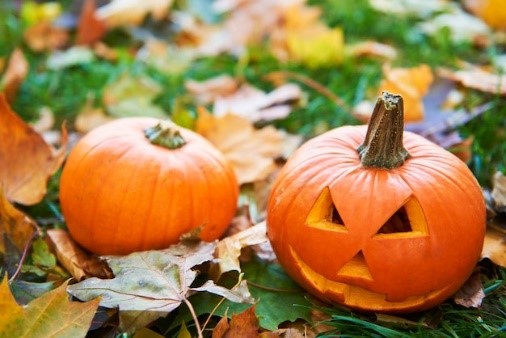 Nutrition
Pumpkin flesh is a rich source of vitamin A providing over 200% daily value in 1 cup mashed and are good sources of many vitamins and minerals. Manganese and copper for examples are two of the many trace minerals found in pumpkin that our body needs. Recent studies are investigating their roles in our mental health and suggesting lower dietary intake on these minerals may be associated with mental disorders.
Pumpkin seeds are not only good sources of manganese and copper like the flesh, but they are also rich sources of iron and magnesium. Magnesium is a mineral that plays an important role in regulating our hormones which affects our mood. Studies have shown individuals with a low magnesium level have a higher risk of depression.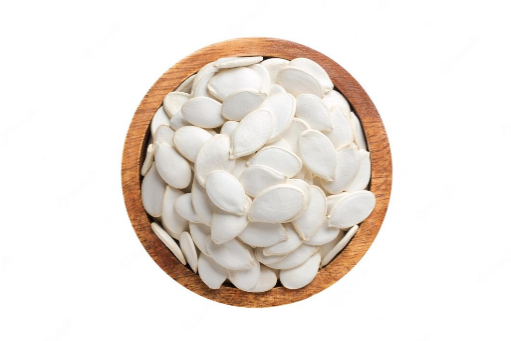 Sustainability
There are no reasons to let the nutrient dense pumpkin seeds go to waste! If you want to dry the seeds, make sure to clean them from the pulse thoroughly, and then lay the seeds in a single layer (not touching each other) on a paper towel to let them dry out in a cool and dry place for 3-4 weeks, turn and stir them often in the few couple days to make sure they dry on both sides. You can then store the seed in an envelop in a dry cool place or in the fridge.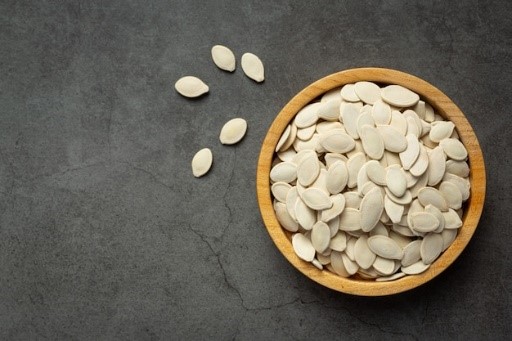 Healthy Dish Idea
Spicy Roasted Pumpkin Seeds
Ingredients
1 cup pumpkin seeds1 teaspoon olive oil1/4 teaspoon ground chipotle pepper1/4 teaspoon salt1/8 teaspoon ground cayenne pepper
Method
Pre-heat air fryer to 175°C or 350°F.Transfer pumpkin seeds to a medium bowl.Add olive oil, chipotle pepper, salt, and cayenne pepper to the bowl.Toss to combine.Spread the seeds evenly in the basket of the air fryer.Cook, shaking the basket halfway through cooking, until the seeds are golden and crispy, 10 to 15 minutes total.Transfer to a bowl and let cool. Taste and season with more salt as needed.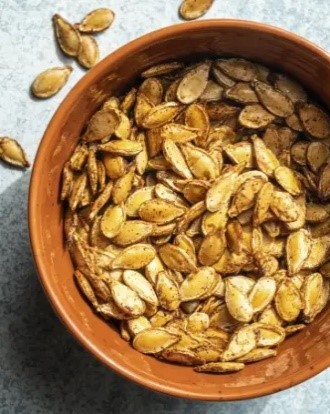 References
Royal Horticultural Society – Pumpkins and winter squashes: storing. Available at: https://www.rhs.org.uk/vegetables/pumpkins/storing . Accessed on 7Sep2022.
USDA – USDA National Nutrient Database for Standard Reference. Available at: https://fdc.nal.usda.gov/ . Accessed on 7Sep2022.
The Spruce Make your Best Home – How to Save Pumpkin Seeds. Available at: https://www.thespruce.com/how-to-save-pumpkin-seeds-1387704 . Accessed on 7Sep2022.
Kitchn – Air Fryer Pumpkin Seeds. Available at: https://www.thekitchn.com/air-fryer-pumpkin-seeds-recipe-23230181 . Accessed on 7Sep2022.