[Wellbeing & You] Japanese Pumpkin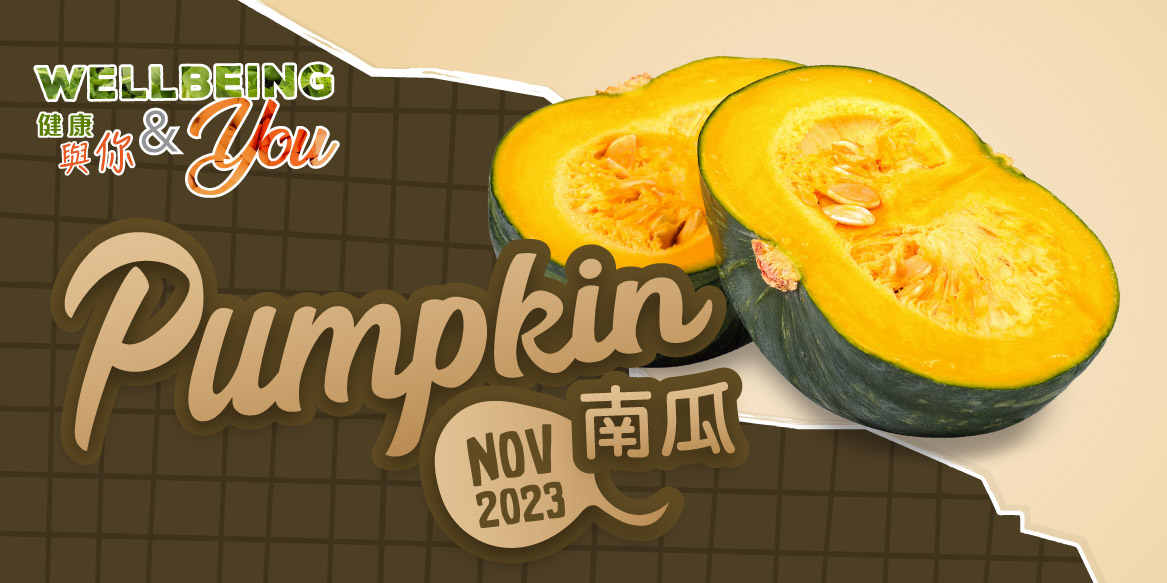 Eat Seasonal
Japanese pumpkin, also called Kabocha squash, is found in grocery stores all-year-round these days. Like other varieties of pumpkin and squashes, they are fruits rather than vegetables from the botanical perspective. Kabochas are often harvested from summer to early fall, but they are more delicious two to three months after ripening, which makes them a great ingredient in various winter dishes. To store Kabochas well, remove all the seeds and pith from the cut squash before wrapping with plastic wrap if only part of the squash is used. Place the wrapped part in the refrigerator for 2-3 days or in the freezer for a month. Uncut Japanese pumpkin can be simply stored in a dry, dark, and cool place for 1-2 months. In Hong Kong, many supermarkets sell Japanese pumpkin in cut sections that are much easier to be prepared at home and be used up in one meal.
Nutrition
It is no surprise that Japanese pumpkin is used in many Japanese recipes. They can be prepared by diverse cooking methods, such as steam, boil, simmer, deep-fry…etc. Simmered kabocha is marinated to be served as a side dish, deep-fried kabocha is served as one of the iconic Japanese dishes – tempura, steamed kabocha is made into dessert mochi, and these are only a few of numerous examples of kabocha in the Japanese cuisine. In addition to the Japanese cooking style, kabocha is enjoyed in many other cultures in the world with pumpkin soup being one of the most popular dishes.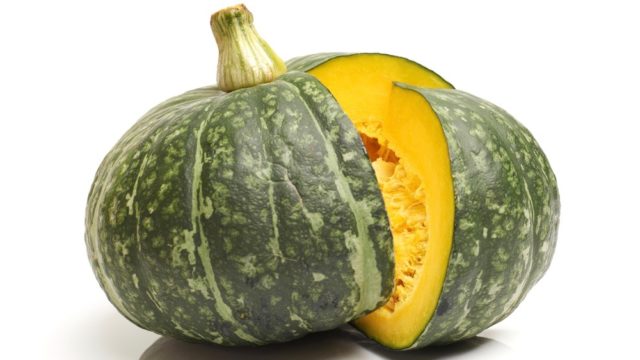 Japanese pumpkin tastes sweet and has a soft texture. Despite its sweetness, it only contains 8.6g carbohydrates including 1.5g (4% Daily Value) dietary fiber in about one cup of raw pumpkin cubes (100g), and therefore it can be a great choice for people with diabetes. Unlike most of the starchy vegetables, carbohydrates content of pumpkin is relatively lower while fiber content is higher, these characteristics are helpful in post-meal blood sugar management. However, overdoing it can still result in a high blood sugar level, so make sure to portion out the amount of pumpkin you have at each meal if you are watching your blood sugar level.
Similar to a majority of winter squashes, Japanese pumpkin is rich in vitamin A and vitamin C, in every 100g providing over 45% Daily Value (DV) and 20% DV respectively. Both these vitamins play a crucial role in supporting our immune function. A 100g raw kabocha also offers 7% DV of potassium that is the essential minerals our body needs to maintain water balance and to regulate blood pressure level.
Let's utilise this naturally sweet and versatile ingredient in this season to bring in more flavours and nutrients to our diet.
Sustainability
The entire Japanese pumpkin is edible! Although the skin is tough to cut, it is thin and delicious. The seeds can be dried and baked into nutritious snacks that are good sources of essential fatty acids to keep our heart healthy too. Minimizing the wastage in food preparation is a way to reduce food waste as well as avoiding cooking too much and finishing our plate at mealtime!
Compass Chef's Recipe Sharing
Japanese Pumpkin Risotto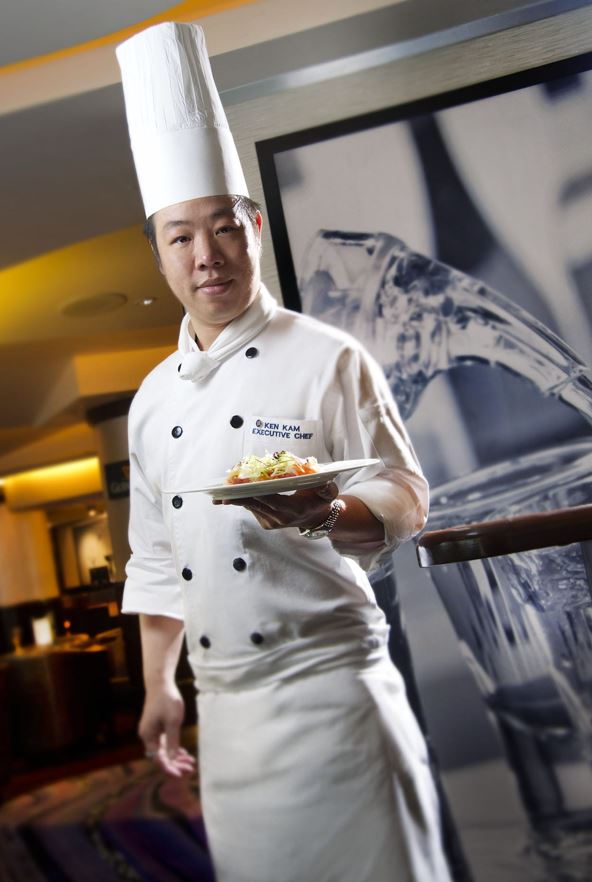 Ingredients
· 5 cups of water
· 2 tablespoons olive oil
· 2 cups shimeji mushroom, thinly sliced
· 3 cups kabocha squash, peeled and chopped into ½ inch cubes
· 2 tablespoons fresh thyme, chopped
· ½ teaspoon salt
· ¼ teaspoon pepper
· 1 cup arborio rice
· ½ cup dry white wine
· ½ cup parmesan, finely grated
Method
1.         In a medium saucepan, bring water to a simmer over medium-high heat. Reduce heat to keep the water steaming but not simmering.
2.       In a large saucepan, heat oil over medium heat. Add mushroom and squash, stir often for about 5 minutes.
3.       Add thyme, salt and pepper, stir for about 30 seconds.
4.       Add rice and stir until translucent, about 1 minute.
5.       Add wine and stir until liquid is almost absorbed by the rice, about 1 minute.
6.       Add ½ cup hot water to rice, reduce heat to a gentle simmer, stir constantly.
7.       Until liquid is absorbed, add another ½ cup hot water and stir constantly.
8.       Repeat step 7 until rice is tender and creamy, about 30-40 minutes.
9.       Remove from heat and then add cheese and stir.

References: