[Wellbeing & You] Corn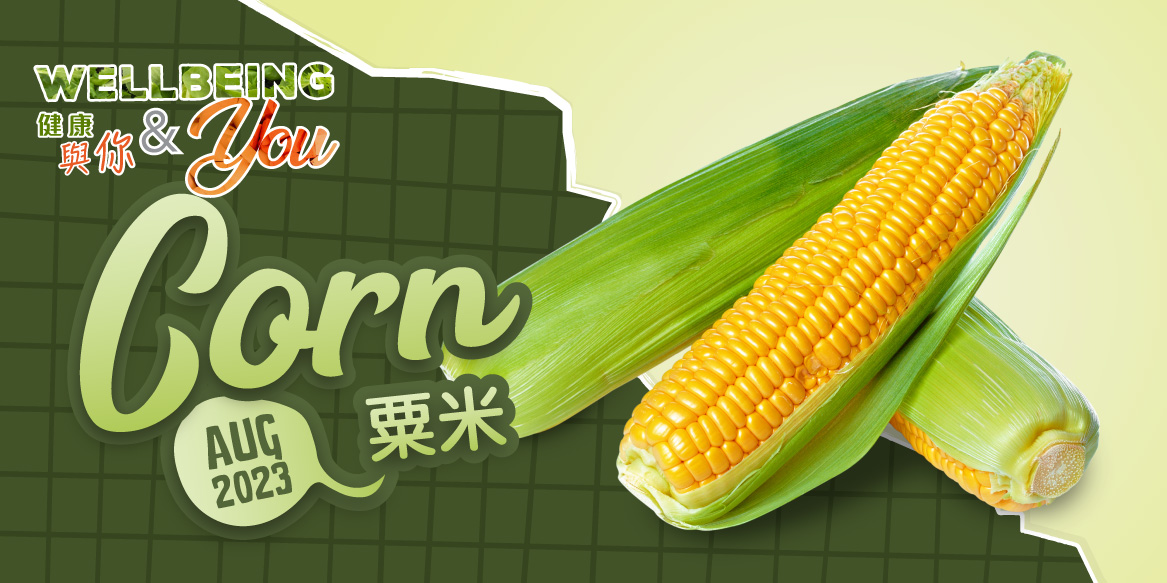 Eat Seasonal
Corn, also named as maize, is a staple food all around the globe. We may not consume a lot of corn directly, but corn is used in many of our processed food, animal feed and non-food items such as cosmetics, laundry detergent, antibiotics, glue…etc. Corns are usually planted from mid-March to June in the northern hemisphere, as they like warm and sunny weather. It takes 60-100 days for corns to reach harvest which makes August till November their harvest season. There are six major types of corn, sweet corn, dent corn, pod corn, flour corn, flint corn and popcorn. Sweet corn is the main kind we eat. Do not wash the corns and leave the husks on until you are ready to cook them. Fresh corns last about 3 days in the crisper drawer of the refrigerator inside a sealed plastic bag.
Nutrition
Sweet corn is a popular ingredient in many places in the world. Summer corn salad, state fair grilled corn, Mexican corn ribs and summer corn chowder are some famous dishes you may have heard of or tried before. This seasonal crop is nutritious, and its sweetness helps freshen up our appetite in hot summer days.
Sweet corn may be considered as a vegetable, but it is usually eaten as a grain at mealtime. In one medium ear of sweet corn (yields 102g), there are 19.1g carbohydrates, equivalent to about 1/3 bowl of cooked rice. Comparing to the most popular grains consumed in Hong Kong, sweet corn contains more dietary fiber, offering 2g of dietary fiber in one medium ear verse 0.21g in 1/3 bowl cooked white rice (53g). Most of the dietary fiber found in sweet corn is insoluble fiber which has a main function to keep things moving through our digestive tract quickly and therefore plays a role in preventing hemorrhoids and lowering some types of cancer risk.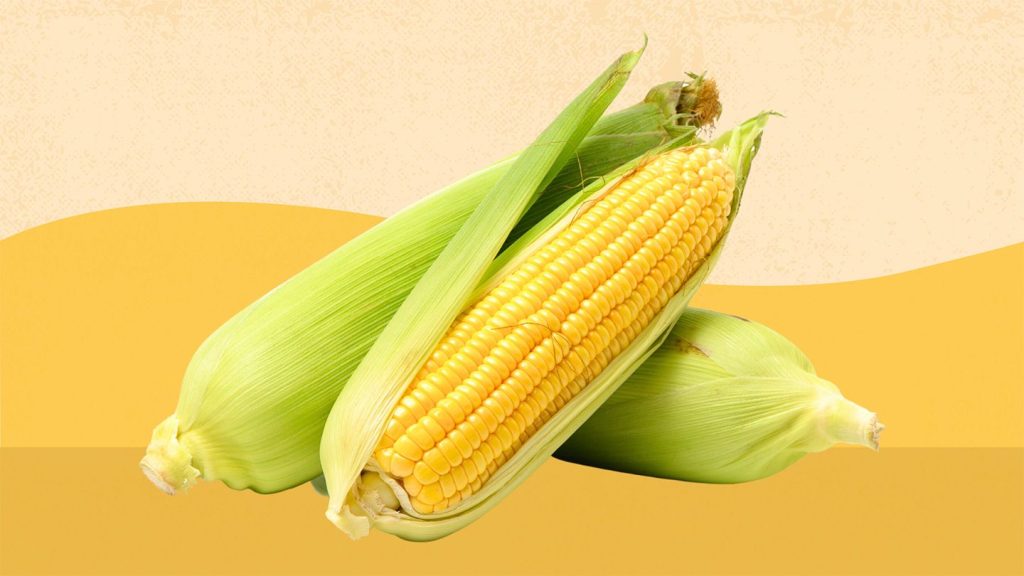 Surprisingly, sweet corn provides a small amount of protein too, 3.3g per one medium ear and it is equivalent to half an egg. In this same portion size, it is a good source of vitamin B1 and B3, containing 13% Daily Value (DV) of vitamin B1 and 11% DV of vitamin B3. These B vitamins are significant micronutrients to convert food we eat into energy. Furthermore, the natural bright yellow color of sweet corn is representing a higher concentration of lutein and zeaxanthin that are important phytochemicals to our eye health.
Let sweet corn be part of our summer diet to bring in more healthful nutrients we need while adding a refreshing sweetness to this hot humid weather that can hinder our appetite.
Sustainability
Switching from regular grains, such as rice or wheat, to sweet corn in our daily intake not only boosting the overall nutrition we are getting, but also reducing the carbon footprint and water footprint we left behind. In contrast to wheat and white rice, sweet corn uses about 30-50% less water and produces about 25-65% less carbon. If you are interested in making a difference to save our planet, but not yet ready to be a flexitarian or vegetarian, you can still take a small step forward by choosing crops with smaller impacts to our environment.
Compass Chef's Recipe Sharing
Mexican Corn Ribs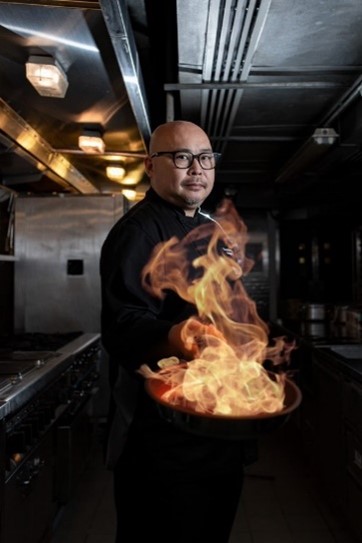 Prep Time: 10min
Cook Time: 30min
Total Time: 40min
Serve: 2
Ingredients
·       1 tablespoon olive oil
·       ½ teaspoon salt
·       ½ teaspoon garlic powder
·       ¼ teaspoon onion powder
·       ½ teaspoon smoked paprika
·       2 sweet corns
·       3 tablespoons lime juice
·       2 teaspoons fresh chive, finely chopped
·       2 tablespoons fresh cilantro, finely chopped
·       2 tablespoons halloumi crumbles (optional)
Method
1.         Preheat oven to 375⁰F (190⁰C)
2.       In a small bowl, combine olive oil, salt, garlic, onion, paprika and mix well
3.       Chop corns into half vertically and then chop again into quarters
4.       Transfer corns to a parchment-lined baking tray
5.       Brush mixture over the corns
6.        Bake for 25 minutes
7.        Brush lime juice and sprinkle cheese on corns, and then bake for another 5 minutes
8.        Sprinkle chive and cilantro, enjoy!

References: