[Wellbeing & You] Avocados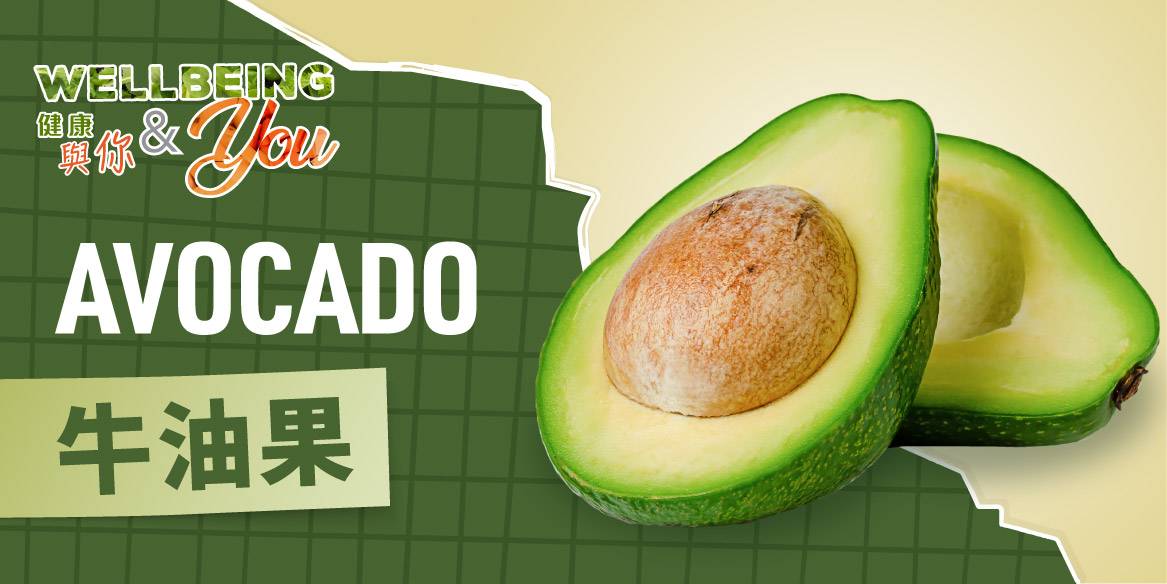 Eat Seasonal
Avocados can be found available in grocery stores year-round, but have you noticed the sizes, shapes, and colors of them vary in different seasons? The reason is that avocados we see are not the same type throughout the year, and there are actually over 500 variations of avocados around the global. From February to April, one of the most common avocados in Australia – Shepard is being harvested and transported to Hong Kong. Next time when you are doing grocery shopping, check out the avocados in the fruit section during this time of the year and you will find Australia's avocados are glossy green in color and they don't darken with ripeness.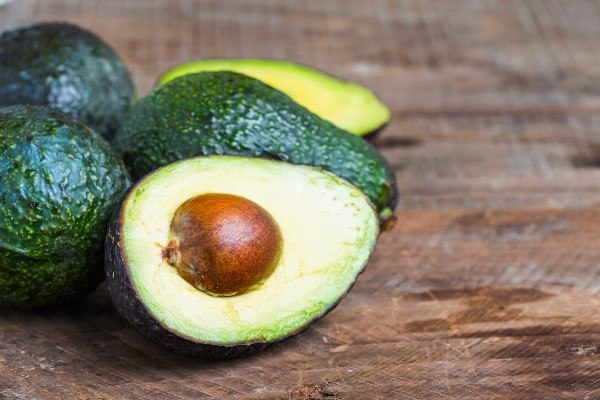 Unlike many other fruits, avocados do not ripen on trees! They need to be picked to initiate the softening process and it takes a few days to a week to complete depending upon their maturity, storage temperature and variety. Keep avocados on countertop at room temperature, and you can tell that they are ready-to-eat when they yield to firm gentle pressure.
Nutrition
Avocados have the highest fat content among the common fruits we eat in our diet. There are about 30g of total fat in one avocado (201g), providing 250kcal solely from fat. Now you may question, how does this high fat fruit widely recognised as healthy in recent years? The rationale behind this trend is that two-third (20g) of the total fat in an avocado is monounsaturated fatty acids, which is a type of fatty acid that can raise our good cholesterol level (HDL) and therefore a moderate intake is considered to be heart healthy.
Unsaturated fatty acids are only part of a heart healthful diet, the abundant amount of dietary fibre in avocados is also good for our heart by lowering total and bad cholesterol (LDL) levels. There are about 7g of fibre in one-half of an avocado (100g), already meeting 27% of our daily needs.
In addition to the nutrients that are beneficial to our blood lipid management, avocados are loaded with many crucial micronutrients. For examples, in a half of an avocado (100g), there are over 10% daily values of vitamin B6, C & E, which all play important roles in keeping our immune system strong. In that same portion, folate and vitamin K contents are even more than 20% of their daily values! They are the key nutrients needed for proper DNA formation in cell divisions and blood clotting respectively.
Avocados provide fatty acids and dietary fiber that most people are not getting enough from their diet nowadays, and they also offer several necessary vitamins. A regular and controlled consumption of avocado can boost our nutrition intake overall but overdoing it can cause unwanted weight gain and poses negative health risk to us.
Sustainability
Avocados sold in Hong Kong market are mainly imported as air freight from South America, the United States, South Africa and Australia. Among these key exporters, Australia is the closest to us which means their avocados have the lowest carbon footprint comparing to the ones flying in from other exporters. Next time when you are shopping for avocados, try the ones that are from Australia and pick the variety that are in season to enjoy this nutritious fruit and to leave a smaller carbon footprint behind!
Healthy Dish Idea
Jicama Strips with Spicy Lime Guacamole
Ingredients
· 1 avocado, ripe, halved, pitted, peeled and mashed
· 1 tablespoon green onions, sliced
· 1 teaspoon chili lime hot sauce
· ¼ teaspoon salt
· 2 cups jicama, peeled and cut into 1/2×3 inch (1x8cm) pieces
· ¼ teaspoon chili lime spice
Method
1) Combine avocado, green onion, hot sauce and salt in a small bowl
2) Sprinkle jicama pieces with chili lime spice and serve with spicy guacamole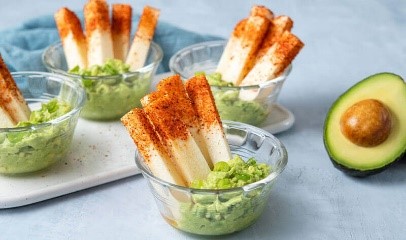 References
Nutrition Data – Avocados, raw, all commercial varieties Nutrition Facts & Calories. Available at: https://nutritiondata.self.com/facts/fruits-and-fruit-juices/1843/2 . Access on 01Feb2023.
Australian Avocados – About Avocados. Available at: https://australianavocados.com.au/about-avocados/ Accessed on 01Feb2023.
Saborea Uno Hoy – Recipe: Jicama Strips with Spicy Guacamole and Lime. Available at: https://saboreaunohoy.com/receta/tiritas-de-jicama-con-guacamole-picante-y-limon-verde/. Accessed on 06Feb2023.