[Parent Connection] Food Allergy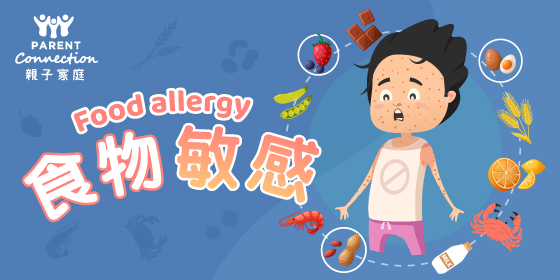 The prevalence of food allergies has been increasing in recent years, especially in children. According to the World Allergy Organization, about 200-250 million people suffer from food allergies globally. In Hong Kong, a local survey revealed that about 1 out of 20 children was reported to have food allergies.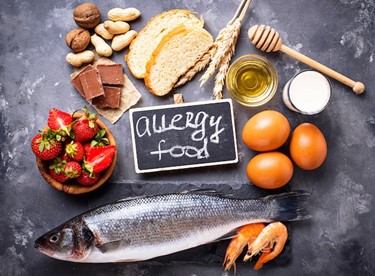 What is a food allergy?
Food allergy is an immune system reaction that occurs after consuming certain foods (even in a very small amount), and our immune system attacks the proteins in food that are normally harmless, which then triggers an allergic reaction.
What food contains allergens?
There are more than 70 types of food reported to be allergenic. Certain foods are more likely to cause an allergic reaction in some people. But the eight most common allergens are:
Milk
Eggs
Peanuts
Tree nuts (almonds, cashews, pecans, walnuts, pistachios, pine nuts)
Fish
Shellfish
Soybeans
Wheat
A questionnaire amongst Hong Kong parents found that 8.1% of children aged 2-7-years old had experienced adverse food reactions – the most common reactions were to shellfish, eggs, and peanuts. On 1 January 2023, sesame officially became the 9th major food allergen in the USA.
What are the symptoms?
Common symptoms of a food allergy include:
Swelling of the lips, face, and eyes
Hives or itchy skin
Wheezing, nasal congestion
Abdominal pain, diarrhea, nausea, or vomiting
Dizziness or lightheaded
Anaphylaxis, a potentially life-threatening reaction, includes constriction and tightening of the airways, shock with a severe drop in blood pressure, etc.
Is there a cure?
Currently, food allergies cannot be cured. The only way to prevent an allergic reaction is to avoid the food allergens. Numerous studies showed that most children with food allergy outgrow their allergy during childhood. 68% of the children who took part in the research outgrew egg allergy by age 16, 45% of wheat allergy children outgrew their allergy by age 5, and 53% outgrew their cow's milk allergy by age 2. However, those who are allergic to peanuts, tree nuts, fish and shellfish are less likely to be outgrown.

References:
S.H. Sicherer, H.A. Sampson. Food allergy: a review and update on epidemiology, pathogenesis, diagnosis, prevention, and management. J Allergy Clin Immunol, 141 (1) (2018), pp. 41-58
Li, P.H., Leung, A.S.Y., Li, R.M.Y. et al. Increasing incidence of anaphylaxis in Hong Kong from 2009 to 2019—discrepancies of anaphylaxis care between adult and paediatric patients. Clin Transl Allergy 10, 51 (2020). https://doi.org/10.1186/s13601-020-00355-6
Center for Food Safety and Applied Nutrition. (2023, January 10). Food Allergies. U.S. Food And Drug Administration. https://www.fda.gov/food/food-labeling-nutrition/food-allergies
Leung, T. F., Yung, E., Wong, Y. S., Lam, C. W. K., & Wong, G. W. K. (2009). Parent-reported adverse food reactions in Hong Kong Chinese pre-schoolers: epidemiology, clinical spectrum and risk factors. Pediatric Allergy and Immunology, 20(4), 339–346. https://doi.org/10.1111/j.1399-3038.2008.00801.x
Outgrowing food allergy – anaphylaxis.org.uk. (n.d.). (2023, February 9). https://www.anaphylaxis.org.uk/wp-content/uploads/2022/06/Outgrowing-food-allergy-Factsheet.pdf