[Healthy Shift] The Nordic Diet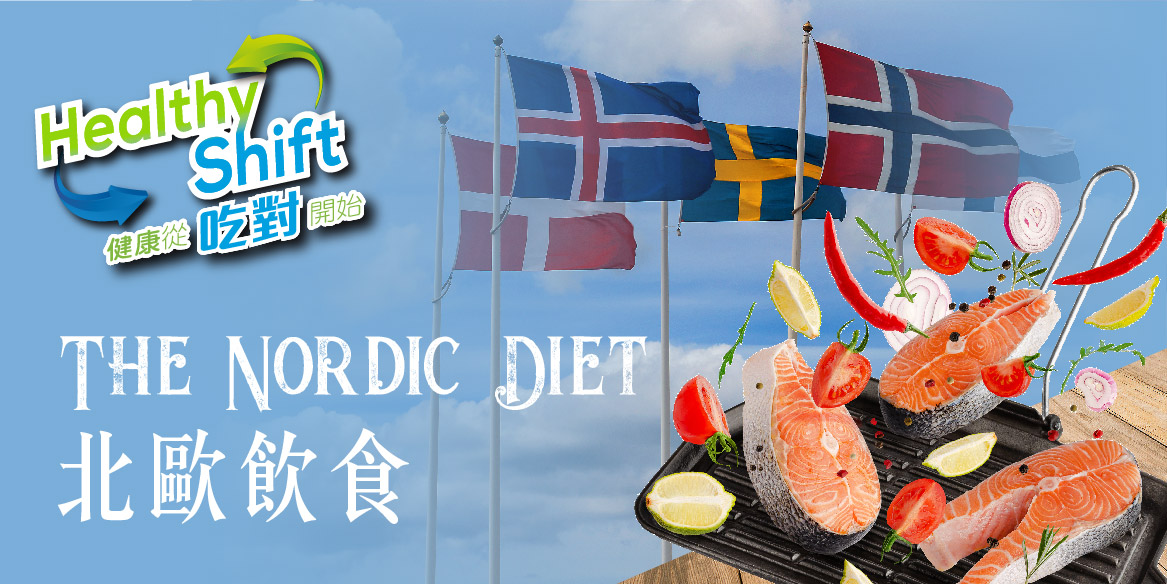 The Mediterranean diet is great and we all know that. Years of research has left no doubt to the plethora of health benefits the regional dietary pattern brings to the human body. So, let's talk about something else today. Let's get packed and head north to the Nordics where food has a far more sophisticated ideology than simply Ikea meatballs, where people eat for the health of not only themselves, but also the Mother Nature.
What is the Nordic Diet?
The Nordic Diet is a whole-food based dietary concept emphasizing palatability, healthiness and sustainability while embracing the regional food culture and habits of the Nordic region including Denmark, Finland, Norway, Iceland, and Sweden as well as neighboring territories.
Key Principles of the Nordic Diet
Choose local, seasonal and organic foods
Eat often whole foods of the Nordic staples:

Whole grains e.g. rye, barley and oats, etc.

Root vegetables e.g. carrots, turnip, beetroots, etc.

Vegetables e.g. cabbage, brussel sprouts, kale, fennel, etc.

Fruits e.g. apple, pears and berries

Legumes e.g. lentils, chickpeas, kidney beans, etc.

Nuts & Seeds e.g. almond, flex seeds, etc.

Eat moderate of
Eat rarely

Red meat and animal fats e.g. butter

Avoid

Refined sugar and sweetened beverages
Benefits of the Nordic Diet
Health. Long-term, randomized, controlled trials and observational studies have demonstrated evidence of the strong association between the Nordic Diet and disease prevention:
Reduced risk of colorectal cancer
Reduced risk of stroke
Improved cardiovascular health in adults with hypercholesterolemia
Significant weight loss and blood pressure reduction in centrally obese adults
More ideal pregnancy outcomes e.g. optimal weight gain7, lower risk of spontaneous preterm delivery
Sustainability. The Nordic Diet emphasizes the shift towards a more plant-based dietary approach which is by itself more environmentally sustainable. In addition, eating local, organic and seasonal also means cutting down the energy required for transportation, hence, promising to minimize carbon emission.
Recipes
Time to try out a 3-course Nordic meal this winter!
Beetroot and Apple Salad (serves 4)
Ingredients


Salad
– 1 small beetroot
– 1 med-size apple
– 2 cups raw baby spinach or arugula
– ½ cup crushed almond or walnut Small amount of goat cheese (optional)

Dressing
– 3 tbsp of extra virgin olive oil
– 2 tbsp of apple cider vinegar
– 2 tsp of honey

Instructions


1) Crush then toast the almond (or walnut) over medium heat on a dry pan for 3-4 minutes or until golden.

2) Cut beetroot and apple into bite-size cubes.

3) Layer on a large plate or salad bowl: baby spinach (or arugula), beetroot, apple, goat cheese (optional).

4) Mix dressing thoroughly and pour on top.
Finnish Salmon Soup (Lohikeitto) (serves 4)
Ingredients


1 lb wild caught salmon
1 large leek (or yellow onion)
1 lb potatoes
1 large carrot
5 cups water
1 cup fresh dill
1 cup low-fat milk
3 tbsp canola oil
Salt and pepper to taste

Instructions


1) Remove all skin and bones of salmon.
Cut salmon into large chunks.

2) Peel and cut the carrots and potatoes into bite-size cubes.

3) Sauté leek (or onion) in a large stew pot on medium heat until soft and fragrant.

4) Add water, carrots, potatoes and half of the fresh dill. Cook on medium heat for 10 minutes.

5) Add salmon chunks and low-fat milk.
Simmer on low heat until salmon is cooked thoroughly.

6) Add the remaining dill. Add salt and pepper to taste.
Nordic Berry Medley Rice Pudding (Quick version, serves 4)
Ingredients


Jam
1½ cup assorted berries (strawberry, raspberry, blackcurrant, blackberry, etc.)½ cup water
30 g sugar for 2 tbsp lemon juice (optional)

Rice Pudding
2 cups cooked rice
2 cup low-fat milk
50 g sugar
1 tsp vanilla extract

Instructions


1) Add all ingredients for jam into a large saucepan. Bring to boil over medium-high heat. Then simmer over medium heat and stir frequently until it reaches the desirable consistency.

2) Add rice, milk and sugar into a separate pot. Simmer over medium heat for 20 minutes until thickened. Remove from heat and stir in vanilla extract.

3) Scoop rice pudding into small dessert cup or bowls. Pour on top the jam. Add fresh berries for garnish.
References:
Mithril C, et al. Public Health Nutrition. 2012;15(10):1941-7.
Olsen A, et al. J Nutr. 2011;141(4):639-44.
Kyrø C, et al. Br J Nutr. 2013;109(5):920-7.
Hansen C et al. Stroke. 2017;48(2):259-264.
Adamsson V, et al. J Intern Med. 2011;269(2):150-9.
Poulsen S, et al. AJCN. 2014;99(1):35-45.
Hillesund E, et al. Public Health Nutr. 2014;17:1909-1918.
Hillesund E, et al. Eur J Epidemiol. 2014;29:753-765.
Harvard Health Publishing. The Nordic diet: Healthy eating with an eco-friendly bent. Available at: https://www.health.harvard.edu/blog/the-nordic-diet-healthy-fare-with-an-eco-friendly-bent-201511198673. Accessed on 3Nov2021.