[Beyond The Kitchen] Spice it up! International Hot & Spicy Food Day – 16 January 2022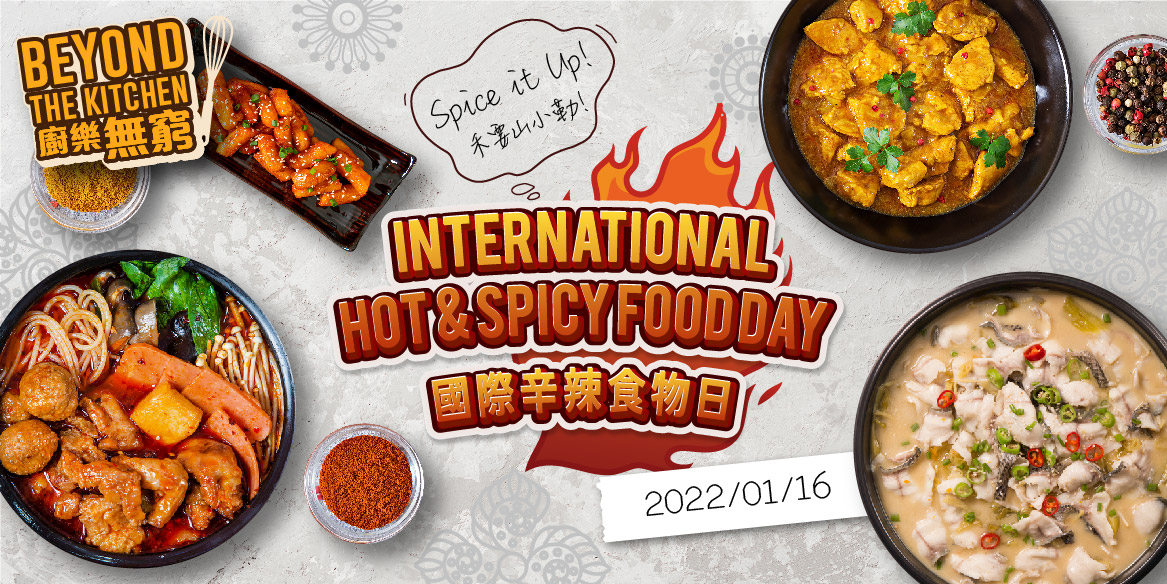 Time to spice things up in the first month of 2022! If you haven't heard, 16th January is the International Hot & Spicy Food Day. On this special day, let's learn about the magic powder sitting in your kitchen pantry!
The use of spices dates back to almost the beginning of human civilization. Spices were among the most valuable trade item in ancient and medieval times, our ancestors from China, India, Egypt and the Middle East heavily relied on spices for food flavoring and preservation, cosmetics and even embalming the dead. Spices were considered premium commodities, so valuable, that basically drove European explorers to set foot on the other sides of the world and began the first global trade in history.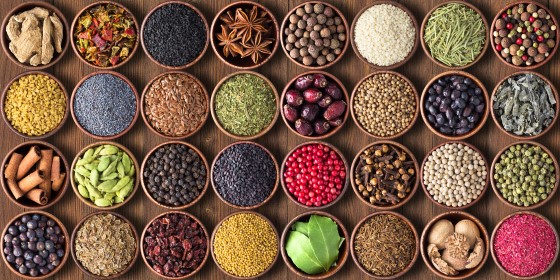 Health Benefits of Spices
Aside from the universal anti-oxidative and anti-inflammatory properties, clinical trials have suggested a myriad of potential benefits of long-term spice consumption on disease prevention and management, such as:
Black pepper: enhances the activity of digestive enzymes, modulates sense of satiety and helps with weight management, etc.
Chili pepper: improves hyperinsulinemia in women with gestational diabetes, enhances thermogenesis and fat oxidation, shifts gut microbiota towards a healthy equilibrium, etc.
Garlic: lowers blood total cholesterol, reduces blood pressure, decreases cell proliferation and tumor growth in certain cancers, etc.
Ginger: alleviates nausea and vomiting, lowers LDL and increases HDL in hyperlipidemia patients, accelerates muscle strength recovery after intense exercise, etc.
Turmeric: helps manages metabolic syndrome, arthritis, anxiety, hyperlipidemia, etc.
What's more, experimenting with different spice blends not only unlocks thousands of unique flavor combinations and take your everyday recipes to the next level, it also help reduce the amount of salt used in cooking!
Recipe
Sick and tired of your plain-O chicken breasts? Twist it up with these spicy marinade recipes from around the world!
Instructions
Defrost (if frozen) and pat dry two pieces of skinless chicken breasts. Put inside a large food storage bag.
In a small mixing bowl, stir well all ingredients for the marinade of choice (see ingredient lists below).
Add marinade to the bag. Seal tight and massage well until all surface of the chicken breasts are coated.
Marinate for at least 2 hours and up to 2 days in the fridge.
When ready to cook, take chicken breasts out of the bag and remove any excess marinade on the surface.
Add ½ tbsp. of olive oil to a medium heat saucepan and grill each side of the chicken breasts for at least 8 minutes until cooked thoroughly.
Alternatively, may bake the chicken breast in the oven at 350°F (177˚C) for 20-30 minutes.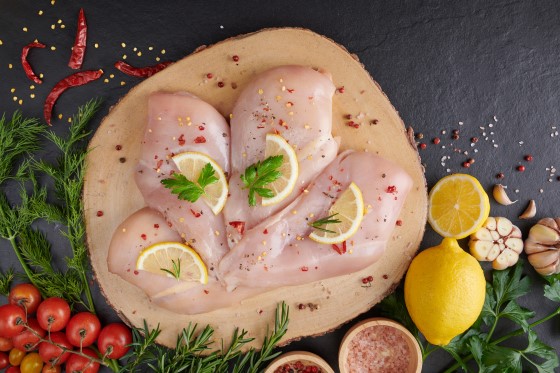 Making The Spices – Ingredients
Peri-Peri (Portugal)
3 tbsp. lemon juice
2 tbsp. minced garlic
½ tbsp. olive oil
½ tbsp. onion powder
1 tsp. chili flakes (add more to taste)
1 tsp. yellow mustard
1 tsp. black pepper
½ tsp. smoked paprika (add more to taste)
½ tsp. oregano
Lime Chipotle (Mexico)
2 tbsp. lime juice
1 tsp. fresh lime zest
2 tbsp. minced garlic
½ tbsp. olive oil
2 tbsp. of fresh, finely chopped coriander
1 finely chopped jalapeño pepper
1 tsp. chipotle chili powder
Drizzle of honey
Turmeric Yogurt (India)
1 cup plain low-fat yogurt
2 tbsp. minced garlic
½ tbsp. ground turmeric
½ tbsp. freshly grated ginger
1 tsp. cumin
1 tsp. cayenne pepper
1 tsp. black pepper
Gochujang (Korea)
2 tbsp gochujang (Korean chili paste)
2 tbsp. minced garlic
½ tbsp. grated ginger
½ tbsp. gochugaru (Korean chili flakes)
½ tbsp. rice wine
½ tbsp. low-sodium soy sauce
½ tbsp. sesame oil
Sichuan Peppercorn (China)
3 tbsp. Shaoxing cooking wine
2 tbsp. minced garlic
2 tbsp. fresh, finely chopped coriander
1 tbsp. crushed Sichuan peppercorn
1 tbsp. Sichuan chili flakes
½ tbsp. grated ginger
½ tbsp. low-sodium soy sauce
1 tsp. white pepper
References
The Spice Trader. How Spices Shaped History. Available at: https://www.thespicetrader.co.nz/history-of-spice/. Accessed on 02Dec2021.
Jiang T. Journal of AOAC International. 2019;102(2):395-411.
Harvard School of Public Health. Tasting Success with Cutting Salt. Available at: https://domf5oio6qrcr.cloudfront.net/media/PDFs/tasting-success-with-cutting-salt.pdf. Accessed on 02Dec2021.